Trusted by nonprofits across the country





Turbo-charge your nonprofit content with a wide variety of pre-made templates at your finger tips.
Create customized content in seconds
We're the first nonprofit AI content platform to offer a tailored tool for nonprofit organizations.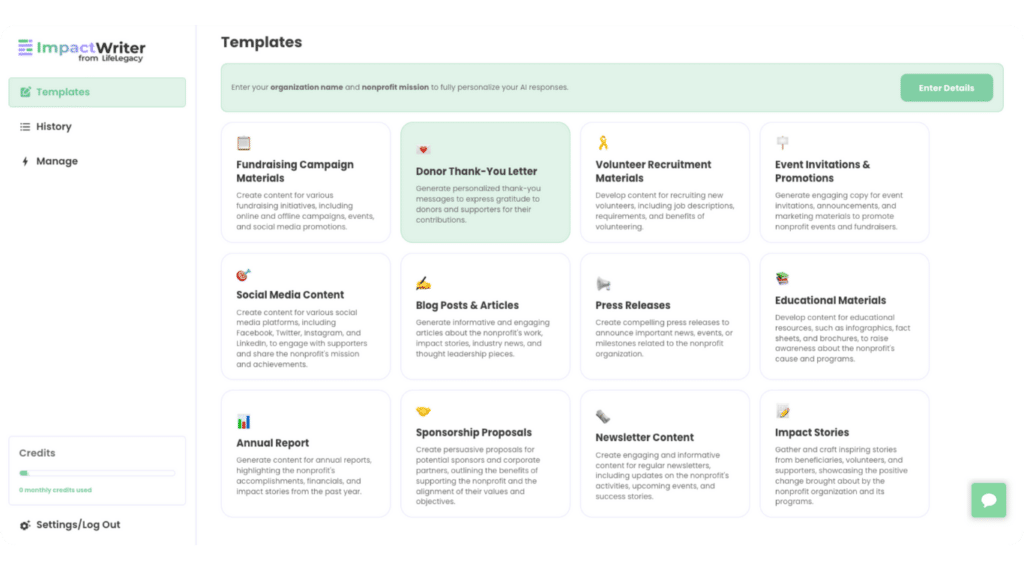 How our AI writing platform works
Learn how it works in just a few steps.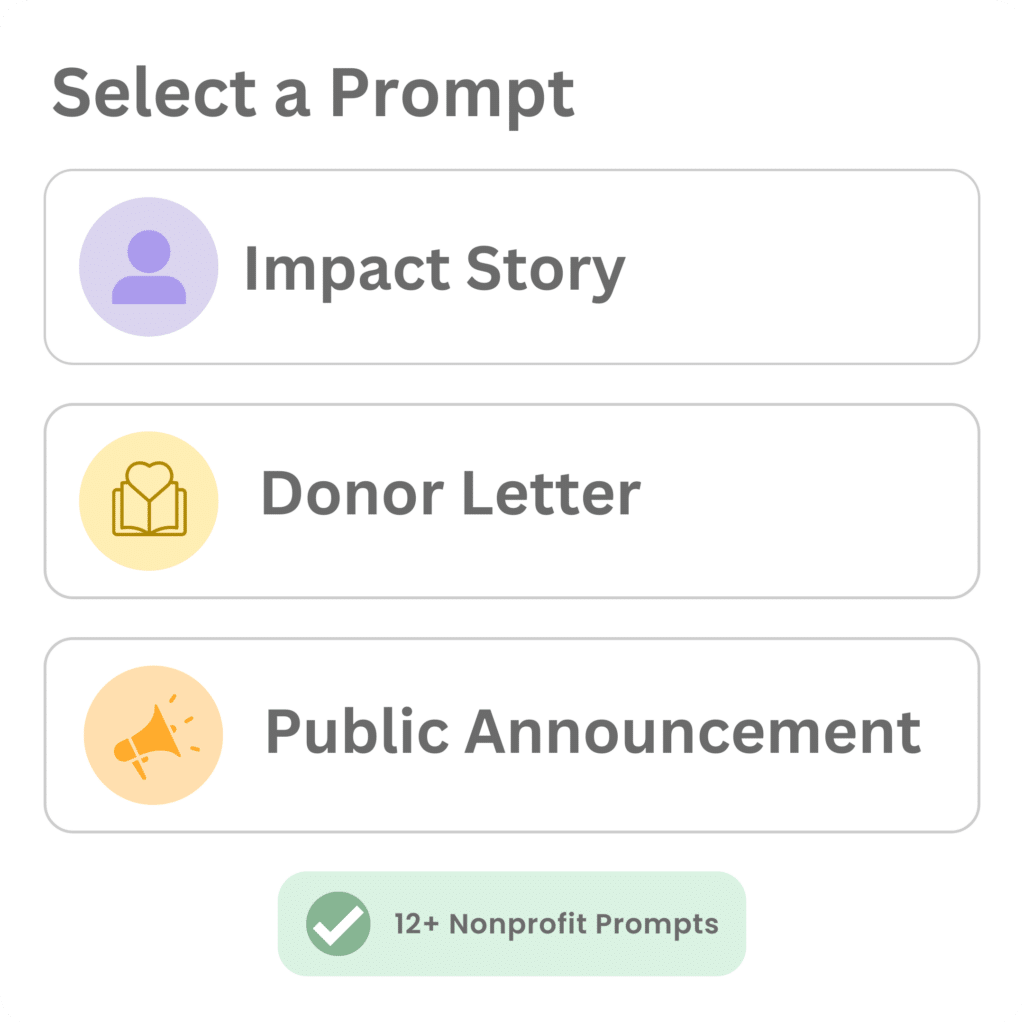 Tell the AI about your nonprofit
Once you create an account, you will be prompted to input your nonprofit's name and mission statement. 
Select one of our tailored prompt templates from the template dashboard. Choose from blogs, announcements, donor stories, and more. Then get started with your first piece of content. 
Enter relevant information
Enter relevant information that you would like to be included in the generated content to make it more customized. 
Get your results and edit
See your results in seconds and simply copy your content. All generated content is also saved in the history tab and can be referenced at any later time.
Our AI content generation works for any type of nonprofit
No matter what your nonprofit mission is, ImpactWriter can write relevant content for your cause.
We help 70,000+ people like you to write better.
Pricing that works for you
Join nonprofits across the country that are leveraging AI.
The economical option that's perfect for users just getting started, with occasional usage to support fundraising initiatives.
$16/month for annual subscription
The most popular option for individuals looking to save countless hours and maximize their fundraising.
$32/month for annual subscription
Take your fundraising efficiency to the next level with a custom package that allows you to focus on what matters most.
Reach out for custom pricing
See the Most asked questions from our loving users and get the answers of your all questions.
How much content I can generate?
Our plans start at 50,000 words a month and go up to 100,000 words a month. As a reference, a typical blog ranges from 600 words to 2000 words. 
Our starter plan starts at $20/month and our premium plan starts at $40/month. We also offer custom plans for high output individuals. 
Can I get this for multiple employees?
Absolutely. Please reach out to us to discuss organization-wide pricing. 
Can I get a demo of the product?
Of course! Please schedule a demo with us here.
Do you have other nonprofit tools?
Yes we do. Please visit LifeLegacy to view our comprehensive suite of planned giving tools.
ImpactWriter by LifeLegacy
ImpactWriter is a tool built by LifeLegacy, a company focused on providing affordable and high impact products for nonprofits.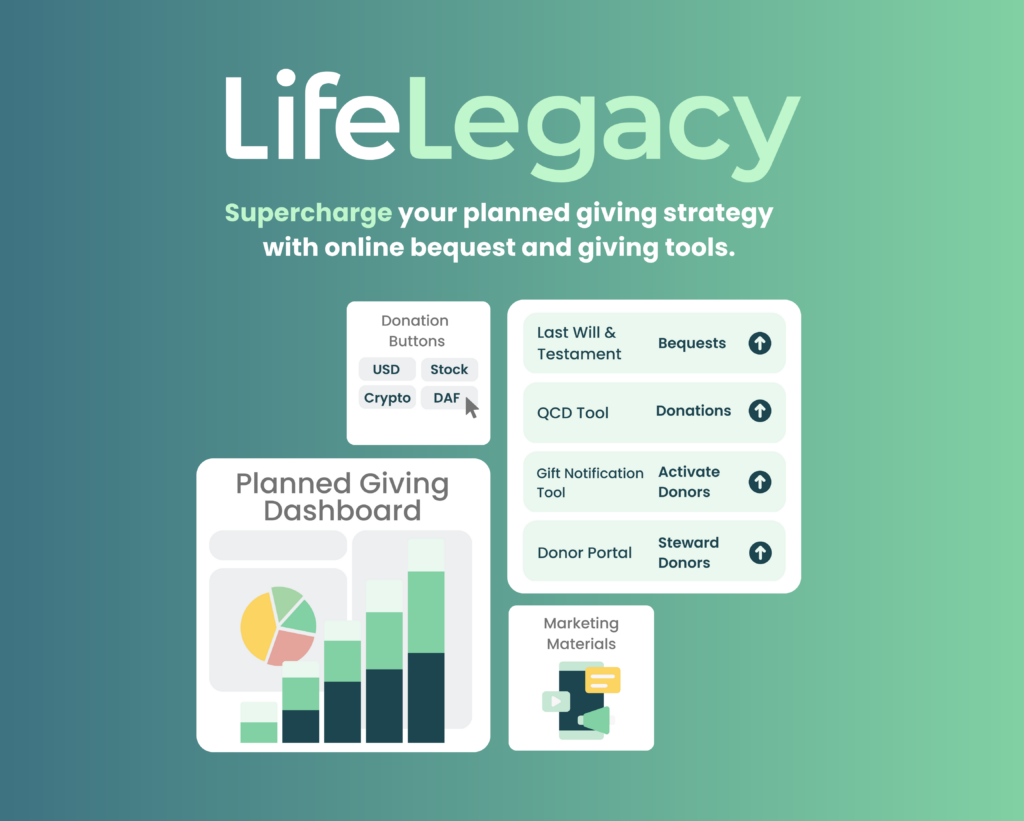 Take your nonprofit to the next level
See how easy it can be to write amazing fundraising and planned giving content.