Revolutionize Nonprofit Fundraising with ImpactWriter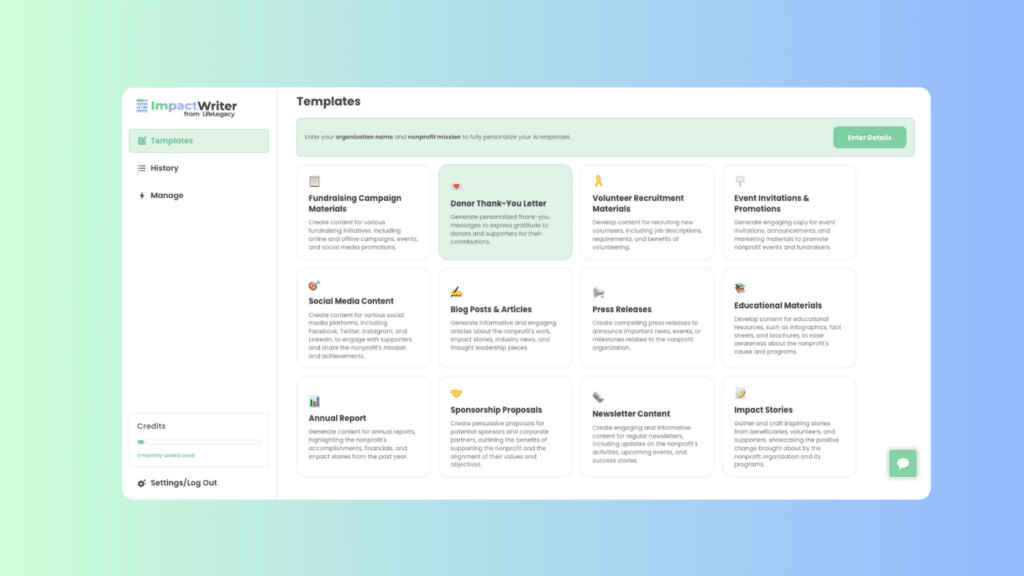 Leveraging AI for nonprofits
As the nonprofit sector continues to evolve, innovative technology such as Artificial Intelligence is playing an increasingly vital role in driving success. ImpactWriter is the game-changing and first-ever AI tool that's transforming nonprofit fundraising content creation like never before.
Imagine having the power to create compelling, expert-quality fundraising content in seconds. ImpactWriter turns this dream into a reality. It is specifically designed to save nonprofits precious time, money, and resources, allowing organizations to focus on their core mission and create a lasting impact.
ImpactWriter's key features include:
1. Expert Fundraising Content: With just a few clicks, generate persuasive and engaging fundraising campaigns, donor thank you letters, social content, newsletters, impact stories, board letters, and more.
2. Save Time and Resources: No more agonizing over the perfect wording or spending countless hours researching, writing and editing content. ImpactWriter does the heavy lifting, allowing you to invest your time in other crucial aspects of your organization.
3. Affordability: At just $20 per month until May 31st, ImpactWriter is a budget-friendly solution for nonprofits of all sizes. Say goodbye to costly content creation services and embrace the power of AI-driven content.
Curious to see ImpactWriter in action? Watch our video demonstration, where we walk you through how the platform creates a donor thank you letter in seconds. You'll be amazed at how simple, yet powerful, this tool truly is.
ImpactWriter has the potential to revolutionize nonprofit fundraising by enabling organizations to connect with donors and supporters on a deeper level through compelling, personalized content. Don't miss out on this unique opportunity to enhance your fundraising efforts and elevate your nonprofit's impact.
Join the growing community of nonprofits embracing ImpactWriter and experience the transformative power of AI-driven content creation. Visit impactwriter.io today and embark on your journey towards more effective and efficient fundraising.
Get 2 months free when you sign up for an annual subscription before May 31, 2023.
---
---