Supercharging Fundraising with AI: Highlights from Our Webinar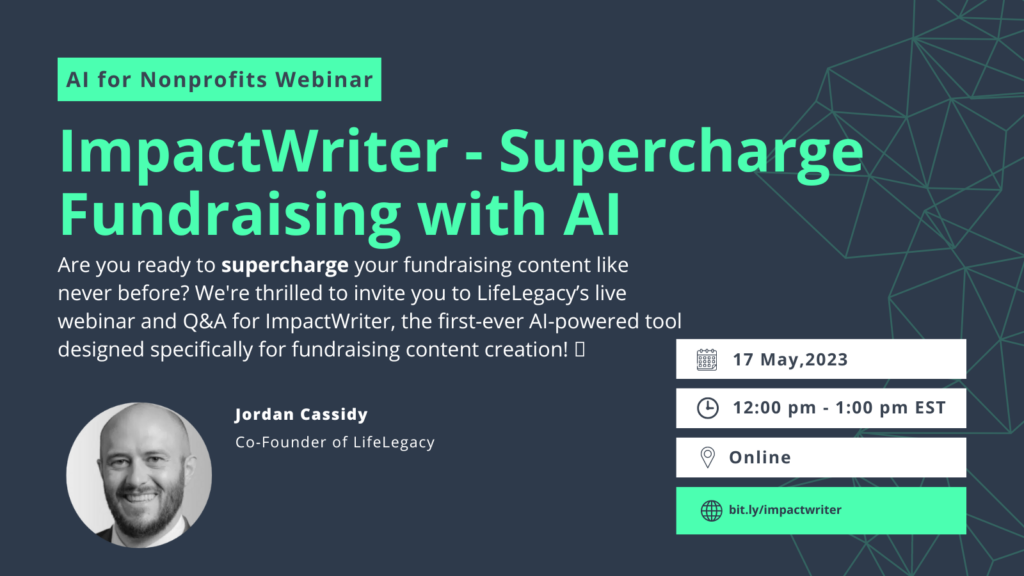 On May 17th, we hosted a webinar focused on how nonprofits can leverage the power of AI to enhance their fundraising strategies. This post offers a brief overview of the discussion and highlights the potential of AI tools like ImpactWriter.
Artificial Intelligence (AI) might seem like a complex concept, but it has now been streamlined into tools that make the challenging task of donor fundraising a breeze. At the heart of our discussion was ImpactWriter, a revolutionary platform specifically designed to supercharge nonprofit fundraising initiatives.
ImpactWriter offers a significant amount of benefits. It allows organizations to save time, money, and resources by simplifying and automating various aspects of fundraising – such as content creation. The platform is prompt-engineered and hosts 15 custom templates designed to improve fundraising efficiency. Whether you're crafting an email to prospective donors, generating reports, or creating fundraising campaigns, these templates can significantly reduce the effort involved.
But it's not just about streamlining processes; AI can also help nonprofits deepen their donor engagement and relations. By harnessing the power of AI, ImpactWriter can deliver personalized communications, resulting in more meaningful connections with your supporters on a more frequent basis.
The webinar explored these topics in greater detail, providing actionable insights and techniques for fundraising professionals looking to step up their game. If you missed it, don't worry! The webinar recording is readily available for viewing. Just click the link below!
Take a step towards the future of fundraising by exploring how AI and tools like ImpactWriter can transform your strategies. When it comes to boosting your fundraising potential, the future isn't AI, it's the now!
---
---